What Are Designer Rustic Series Tables?
Jacky Hawthorne designed this line as a main focal center-piece for your home. This series line is a perfect mix of industrial and rustic design. While these tables are the perfect kitchen island option they are also made to be used outside. These tables are on high quality locking casters which makes them incredibly easy to roll around your kitchen, dining room or outside eating area. All our island tables are designed to accommodate bar stools on all four sides having an 6.00" overhang. All come with a beautiful rustic hardwood distressed top and bottom with an polyurethane hardwood finish. Hardwood is offered in either a solid look or our very old school Planked line. We offer 5 unique wood stained finishes. Our table frames can be powder coated most any color including two old school rustic powder coated finishes along with a black textured finish. Table frame can be sold in our popular standard aluminum mill finish as well. All hardware used for mounting wood and casters are a black zinc grade that will not rust if used outdoors. As an option we offer our very unique distressed metal top. The overlay top can be removed with flexibility to change back to the hardwood finish look. Our inlay lines have either a beautiful Sandstone inlay or our new Distressed Metal Top inlay as well. We also offer a matching distressed hardwood Wine Rack and Mid Shelf unit. Our Designer Rustic series tables offers as an option a ¼" Polycarbonate/Lexan or Tempered Glass protective smooth working surface top. All Designer Rustic series tables are built to 38.750" over all height. Below are our standard sizes with options and customs can be manufactured upon requested.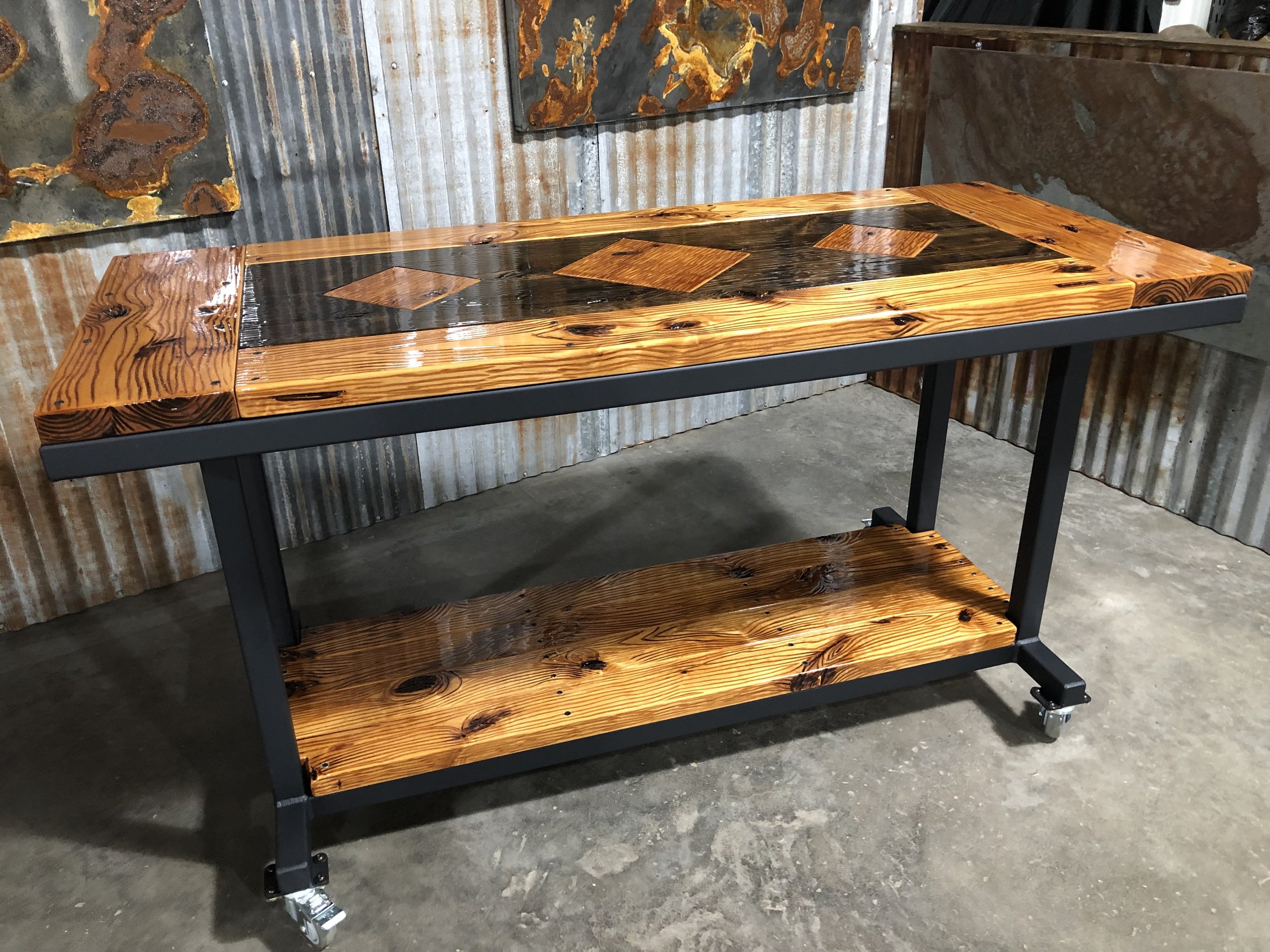 Build Your Own Designer Rustic Table
You can design your very own Hawthorne Designer Rustic kitchen island to fit your home. Jacky Hawthorne will work with you personally to design and build your table. To start the process you pick the size you're looking for and then start building.
Standard Table Sizes
These are the standard table sizes that fit most homes and are designed to fit through standard door openings. Custom sizes can be created by request.
26.00" wide X 60.00'' Long

30.00" wide X 72.00" Long
Distressed Wood Color Options
Choose from these beautiful wood color options.
Frame Color Options
Choose from our frame color options to create the perfect combination of wood and aluminum.
Top Style Options
Solid wood, Planked top, Distressed metal inlay, or Sandstone inlay are the standard options for your table tops.
Additional Options
Check out these additional customization options for your table.
Ready To Build Your Hawthorne Table?
Fill out the form and let us know what you are looking for. These selections are just a starting point to let Jacky know what you like. He will work with you personally to refine your choices to make sure you get the table that you want. You can also reach out to Jacky by phone. (972) 584-0551
We Deliver! Let us know where you live. most of the time there is not a delivery fee if you live in the DFW area!